On April 15, 2020, the U.S. Soccer Federation has decided to shut down the U.S. Soccer Development Academy program for both boys and girls effective immediately. However, it is worth remembering, that thanks to this program, many players play at a professional level, and I do not mean only Major League Soccer or USL Championship, but, above all, transfers to European clubs. Scouts have been observing this market for a long time, and the USSDA program has been even more popular than MLS. Today I will write about players who currently play in Europe, but they took their first steps in the United States, and more specifically in the USSDA. Also, I would like to point out that it is about players who did not make their debut in the highest tier in the US or the first team in USL or NASL. U.S. program Soccer Development Academy has allowed many players to rise.
CHRISTIAN PULISIC, CHELSEA
Pulisic was born into a soccer family, with his parents Mark and Kelley both playing at George Mason University. Due to his father's work, he played for a short time in Brackley Town (England) and then in Michigan Rush. After returning to Harshey, i.e. from the age of nine, he grew up playing for local U.S. Soccer Development Academy club PA Classics and as a teenager, he also did some training with a minor professional soccer club in the Hershey area known as the Harrisburg City Islanders.
Christian looked much better than his colleagues. He was quickly recognized and made his debut in the United States youth national teams. In 2014, at the age of 15, he was playing a match with the USMNT U-17. A group of scouts from Borussia Dortmund watched the match in Turkey, being drawn to the match by a talented American forward named Haji Wright. The scouts came away from the match impressed by the play of midfielder Pulisic. They were more impressed with Pulisic than Wright and decided to pursue Pulisic to join their club.
He was 16 years old in February 2015 when BVB signed him and placed him on the U-17 squad. By the summer of 2015, he was promoted to the U-19 squad, and he was promoted to the first team during the winter of 2016. He made his Bundesliga debut in a 2–0 win against FC Ingolstadt on January 30, 2016. On February 18, Pulisic made his UEFA Europa League debut as a second-half substitute in a 2–0 victory against FC Porto. In the colors of BVB he played 127 matches, broke many records of Americans who performed in the Bundesliga and Europe. He was the first player, who shows that young Americans in the football world overseas don't have to be "just not good enough". He was also proof that training in the USA is constantly moving forward.
Pulsic's quick rise in Germany's Bundesliga had garnered a lot of attention throughout the world of soccer. On January 2, 2019, Chelsea announced they had reached a $73 million deal to pay Dortmund for Pulisic, which is a record amount for an American player. This deal was also Borussia Dortmund's second-most-expensive sale of all time, behind Ousmane Dembélé. On August 11, 2019, Pulisic made his Premier League debut for Chelsea in a 4–0 defeat against Manchester United. In the 2019/20 season, he scored 5 goals, although he struggled with injury for a long time. He has never scored so many goals in the highest soccer division before. Everything indicates that he can show us an even higher level and be a real leader. Let's remember that he is still 21 years old and can afford big things.
Christian Pulisic 2019-20:

1st in penalty box touches/90 among U-21 players in the PL with 540 minutes or more.🥇

2nd in non penalty xG+xA/90 (U-21).🥈

4th in shot creating actions/90 (U-21).

4th in successful dribbles/90 (U-21).

All in all, a successful debut season. pic.twitter.com/J6zB5Xvx6m

— Chelsea Stats. (@ExpectedChelsea) April 24, 2020
Pulisic is also one of the leaders of the national team and is to lead his teammates to success in the coming years. Pulisic had already become the youngest MNT player to appear in a World Cup Qualifier (17 years, 193 days), score an international goal (17 years, 211 days) and score in a World Cup Qualifier (17 years, 253 days), and there is a high probability that he will break several more records in the future, including Dempsey and Donovan. He will be a key player in rejuvenation USMNT, no doubt.
WESTON McKENNIE, SCHALKE 04
Few know that Weston McKennie began his adventure with football in the USA. Even fewer people know that he is a homegrown player of FC Dallas. He spent seven years there and looked good enough to arouse the scouts' interest. In July 2016, McKennie rejected the chance to sign a Homegrown Player contract with FC Dallas and joined Schalke 04.
"When people ask me if it was a hard decision to leave FC Dallas to go to Schalke, it was a hard decision for me. One, it was hard because of loyalty reasons; I was there for seven years. And the other reason is because they had done so much for my development. For me, I see FC Dallas as one of the best academies in the country and it can also compete with some of the best academies around the world. They definitely helped me a lot and I have a lot to thank them for." McKennie told MLSsoccer.com in 2018.
He spent less than a year with Schalke's academy team and was promoted to the first-team squad in May 2017. He made his professional debut on May 20, 2017, as a 77th-minute substitute during a 1–1 draw with FC Ingolstadt 04. Since then has already played 67 games in Bundesliga and over 80 with colors of S04.
If Weston McKennie looks fitter to you this season, you're not alone. 👀@JoyPaulIan and @WarrenBarton2 break down the @s04_us star's performance vs Bayern Munich. #AmerikanerAbroad 🇺🇸 pic.twitter.com/iyabfaE9pf

— FOX Soccer (@FOXSoccer) August 26, 2019
McKennie is one of the most important players in the rejuvenated US team. He gives the team the most as a box-to-box midfielder. Despite his young age, he is a very valued player. In the 2019 CONCACAF Gold Cup final against Mexico, he played with the captain's armband. On October 12, 2019, McKennie scored the fastest hat-trick in USMNT history. He is currently one of the biggest American soccer stars in Europe. Gregg Berhalter will largely base the US national team over the next few years on him, Christian Pulisic and Tyler Adams.
TIMOTHY WEAH, LILLE
The first question for this player is: "Is this the son of George Weah?" Yes, he is the son of this George Weah, and now let's move on. Tim was born in Brooklyn, New York. Many forget that he began his adventure with football in the US and mistakenly point to Paris-Saint Germain. Weah played three seasons with BW Gottschee, a team in the U.S. Soccer Development Academy system, and transferred to the New York Red Bulls Academy in 2013. He stood out, and everyone knew that he would soon move to Europe.
Next year he joined the Paris Saint-Germain Academy. In his first start with the academy team, he scored a hat-trick in the UEFA Youth League. On July 3, 2017, Weah signed a three-year professional contract with the first team. He got single chances, but he couldn't count on regular play. During that time, he proved his worth much more in the United States youth national teams. He joined Celtic on a six-month loan deal on January 7, 2019, where he confirmed his skills, and the ability to play in many positions in the attack.
After a good performance at the U-20 World Cup in Poland, on June 29, 2019, Weah signed a five-year deal with Lille. Financial terms of the deal were not disclosed but L'Equipe reported that Lille had paid PSG about 10 million euros ($11.37 million). It seemed that it would be a breakthrough season for the young player, but he must wait again. Due to injuries, he played only 85 minutes in Ligue 1.
Weah is still a young player who already has a lot of experience, but recently several young Yankees have definitely higher ratings than him. Still everything depends on the 20-year-old striker, who is not only focused on scoring goals but also can create situations for his teammates. He can be a leader in important games, which he has proved several times in youth teams. Time to show it to the senior football at both club and national level.
GIOVANNI REYNA, BORUSSIA DORTMUND
Giovanni Reyna born in November 2002, Gio is the son of former American internationals, Claudio Reyna. From an early age, Gio joined the New York City FC youth academy. In April 2017, at just 14, he helped his team to win the Generation Adidas Cup – a competition for U17s – and was even named player of the tournament. He also led NYCFC's U18/U19 team to the U.S. Development Academy championship. Reyna arrived in Dortmund at the start of 2019. Like former teammate Christian Pulisic, he was able to join the Black-and-Yellows at the age of just 16, having secured a Portuguese passport through Claudio's mother Maria.
Just over six months after he made the move to Borussia Dortmund, the 18-year-old has been promoted to the first team during the 2019/20 winter break. On February 4, 2020, Reyna scored his first professional goal in the DFB-Pokal Round of 16 against Werder Brema. In doing so, he became the youngest goalscorer in German Cup history. On February 18, 2020, Reyna became the third-youngest player ever to appear in a knockout game of the UEFA Champions League when he came on as a substitute in the 57th minute against Paris Saint-Germain. Nine minutes later, he supplied the game-winning assist as Borussia Dortmund beat PSG 2-1.
🇺🇸 Gio Reyna (17) this season for @BVB ⤵️

U18/19s
✅ 16 games
⚽️ 8 goals
🅰️ 8 assists
💪 4 goals in the @UEFAYouthLeague

Senior
⏰ 185 min played (0 starts)
⚽️ 1 goal
🅰️ 1 assist
☝️ Bundesliga & #UCL debut
🔀 11 dribbles won
🔑 5 key passes
⚔️ 6 tackles won

Special talent. 🌟 pic.twitter.com/B2u9vTMKhg

— Football Wonderkids (@fbwonderkids) April 14, 2020
He is an advanced playmaker with excellent coordination, pace and dribbling skills, unique vision, and creativity what makes him another magnificent talent form MLS academy. It is obvious that in the future it may be even better. "It's very clear for me: I will only play for the United States, that's my home," Reyna, the son of former U.S. internationals Danielle Egan Reyna and Claudio Reyna, told in March 2020. Gio Reyna could have represented Argentina, England or Portugal but he decided to play for USMNT. This is fantastic news because the national team has not a nominal offensive midfielder in this position, and this kid has uncommon potential.
ZACK STEFFEN, MANCHESTER CITY (FORTUNA DÜSSELDORF)
Zack Steffen started his youth career as a defender. It wasn't until he was age 10 that he first picked up the gloves, subbing for a teammate that couldn't make the match. He played youth soccer with Philadelphia Union youth affiliate FC Delco. Steffen was one of the first players to come through the Philadelphia Union Academy, playing for the Union U-17 team in 2012. He was part of the team that won the 2012 Generation Adidas Cup, defeating the Toronto FC Academy in a penalty shootout.
Steffen was ranked as the no. 1 goalkeeper in the nation by TopDrawerSoccer.com and on May 29, 2013, he was officially unveiled as part of Maryland's 2013 recruiting class. After two years at the university, in December 2014 he signed a professional contract with Freiburg going on to log minutes with the reserve team as the club's third-choice keeper. On May 16, 2016, Steffen received his first callup to the United States national team before Copa America Centenario. Steffen returned to the United States on July 22, 2016, signing with MLS club Columbus Crew as a Discovery Signing. Initially, he was loaned to the Pittsburgh Riverhounds, but ahead of the 2017 season, Steffen was named as the Crew's starting goalkeeper. He played at an extremely high level. After tallying a career-high 10 clean sheets on the season, Steffen was named as the 2018 MLS Goalkeeper of the Year. It was clear that he would soon be in Europe again.
Wczoraj Zack Steffen obronił rzut karny Fagundeza. Dotychczas 23-latek zatrzymał takich piłkarzy:

– Jozy Altidore (Toronto FC)
– Roland Alberg (Philadelphia Union)
– David Villa (NYCFC)
– Víctor Vázquez (Toronto FC)
– Diego Fagundez (NE Revolution)#MLSplpic.twitter.com/tF9ANzY5qF

— Katarzyna Przepiórka (@pustulkaa) March 10, 2019
The transfer was agreed by Crew and Manchester City on December 11, 2018. Steffen remained with Columbus until the opening of the summer transfer window in MLS before moving abroad. According to Yves Galarcep City paid $7.5 million (£6m) for his services, and the transfer fee could rise to $10 million, making him the most expensive MLS goalkeeper to date. Of course, he will have to prove his value in other European clubs. It was announced on July 9, 2019, that Steffen would be sent on loan to Fortuna Düsseldorf in the Bundesliga. Of course, he will have to prove his value in other European clubs. It was announced on July 9, 2019, that Steffen would be sent on loan to Fortuna Düsseldorf in the Bundesliga. He was a starting goalkeeper and played very well, but since January he has been struggling with a knee injury.
It is not yet known where he will play next season, but for a 25-year-old she has great opportunities. A bright future ahead of him also in the context of the national team. He is currently the most talented USMNT goalkeeper, and it should be expected that he will be number one in the future. Gregg Berhalter will bet on him in the most important games.
JOSH SARGENT, WERDER BREMEN
As a child, he played for St. Louis Scott Gallagher, a U.S. Soccer Development Academy Club. Sargent first appeared in a United States U-14 camp in 2013. In the same year, he was called for the United States U-15. Two years later, he joined the U-17 Residency Program (IMG Academy) and he was scouted by many clubs since his performance at the 2016 Nike International Friendlies. On September 20, 2017, Werder Bremen announced that Sargent would join the club on January 1, 2018, and then sign a professional contract on his 18th birthday, per FIFA rules.
On December 7, 2018, Sargent made his debut for the Werder Bremen's first team in a match against Fortuna Düsseldorf. He scored with his first touch of the match in the 78th minute, the fastest goal by a debutant in club history.
In 2019/20 season he regularly plays as a substitute: 18 games, 850 minutes, 3 goals, 2 assists. There are many indications that in the near future he may be one of the key players in Werder Bremen. "Josh doesn't care whether he plays at the Weserstadion or Platz 11 [the U23 pitch], and he wouldn't care about playing in front of 80,000 in Dortmund. He can block that out, a quality Pizarro also has. That can make the difference between a good and an outstanding player." – said Bremen coach Florian Kohfeldt.
What Sargent has achieved that no other US player has before him is to feature at the U-17 and U-20 World Cups and receive a senior international call-up to the USMNT all in the same calendar year. On May 28, 2018, Sargent earned his first cap for the senior team for a friendly against Bolivia and scored his first international goal. Sargent is one of the young generation players who are to be important USMNT players in the future.
SEBASTIAN SOTO, HANNOVER 96
I have watched Sebastian in several U.S. Soccer Development Academy games. The homegrown player of Real Salt Lake stood out from the rest of his teammates and it was clear that he would quickly move to Europe. Before that happened, he developed his skills at San Diego Surf, then at the already mentioned one of the best MLS academies. It was there that the scouts of Hannover 96 spotted him.
In August 2018, Soto joined the youth academy of German club Hannover 96 from Real Salt Lake. Soto has made a huge impact on the Bundesliga club's U19 team, scoring 17 goals in 24 appearances last term. He made his professional debut for the first team in the Bundesliga on April 6, 2019 in game against VfL Wolfsburg. He also presented himself well during the 2019 FIFA U-20 World Cup in Poland, although I must admit that he was an unobvious hero. This season, he balances between the first team and the reserves. If he hadn't a break caused by coronavirus pandemic, he would be the starting player in the US Olympic team.
I hope that he will regularly play in next season. Often finding himself in the right place at the right time in the opposition box, Soto is quick and strong, but his best asset is arguably his poaching ability in front of goal. He can play well and score a lot of goals, no doubt.
LYNDEN GOOCH, SUNDERLAND
Lynden Gooch was born in Santa Cruz, California. At an early age, he joined the U.S. Soccer Development Academy club Santa Cruz Breakers Academy. His dad, a soccer coach, made a huge contribution to his son's career. "He brought me up to play with both feet and to be creative. I'm very thankful for what he's done for me." – Gooch said during Facebook Live chat.
As a 10-year-old, Gooch took a club trip to England, where he scored a hat trick against Sunderland, and for the next six years, Gooch would spend every spring or summer break traveling to the UK to train with the Black Cats. Lynden signed with the club's youth academy in 2012, progressing from their U-16 side all the way up to the U-21s. Gooch made his professional debut for Sunderland on August 26, 2015, in a League Cup second-round match against Exeter City. In 2016 Gooch signed a three-year contract with Sunderland, and on August 13, 2016, he made his Premier League debut, starting away against Manchester City.
Since then has already played over 100 games for Sunderland. He plays regularly as a winger, and this season was the best in his senior career: 30 matches – 10 goals – 2 assists. Gooch also represents the colors of the United States and has recently been observer by Gregg Berhalter.
CHRIS RICHARDS, BAYERN MUNICH II
Chris Richards joined FC Dallas Academy in 2017 after spending some time with Texans SC Houston. On April 12, 2018, he signed a contract with FC Dallas becoming their 22nd homegrown player. However, he never made his MLS debut. After he spent 10 days on trial at Bayern in May 2018 as part of an academy agreement between the two clubs, in July he was offered a one-year loan with the German club. On January 19, 2019, Richards signed a $1.5 million permanent contract with Bayern Munich.
After great performances in the U-19 team in the 2018/19 season, he was promoted to reserves, where he is the starting center-back. In the 2019/20 season, Richards has shown promise with his passing ability, smart play, and athletic style. Also, he can shift out to right-back, which also makes him the type of versatile weapon.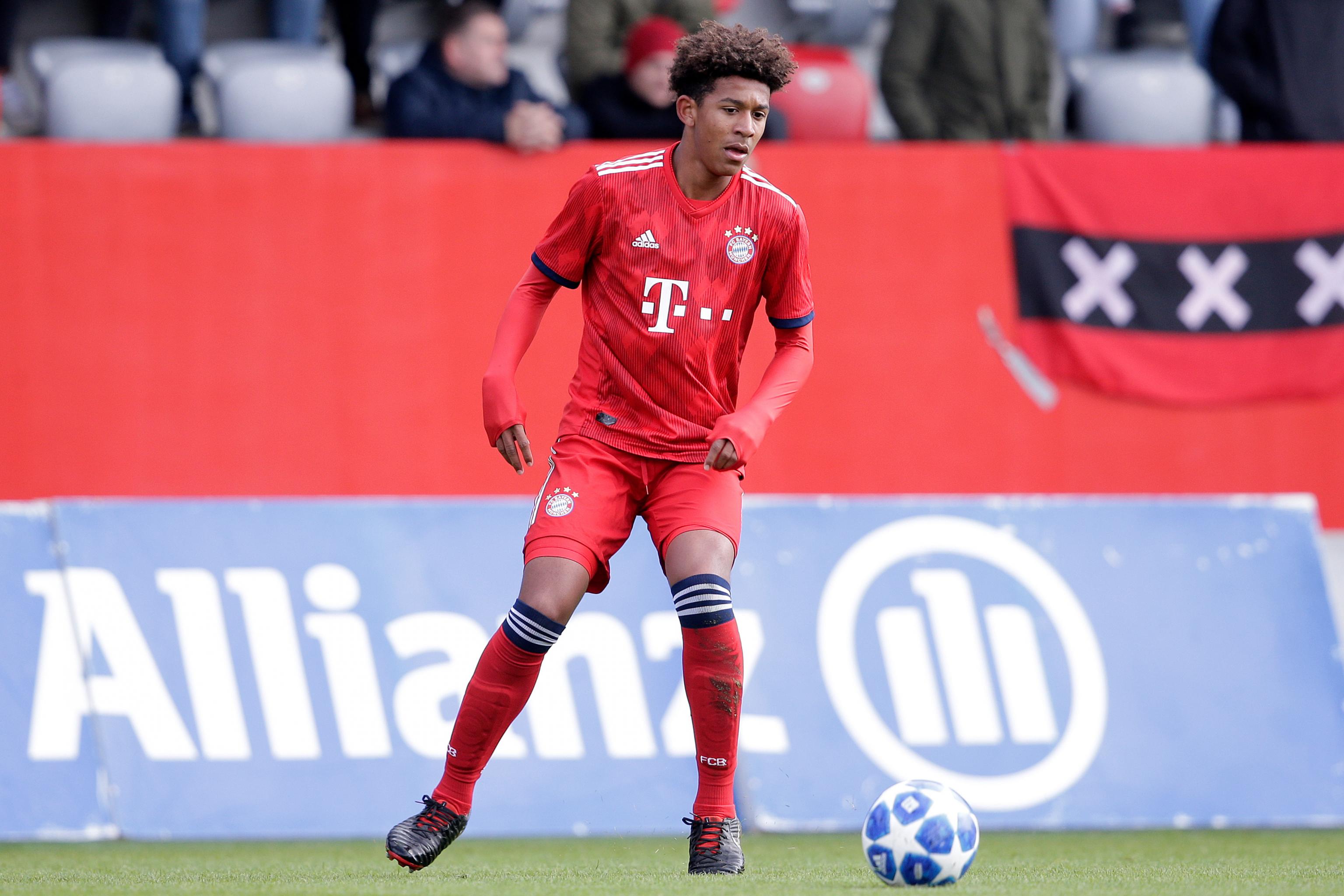 He is also an important player in the US national youth teams. He started all the five matches during the 2019 FIFA U-20 World Cup, including the stunning 3–2 win against heavy favorites, France. Jason Kreis also sees him as the starting center-back in the Olympic team.
***
Some notable players started playing soccer in the U.S. Soccer Development Academy program, but before they left, they had their debut in the USL Championship/League One senior team or the NASL.
PLAYER

AGE

POSITION

USSDA

USL/NASL

TODAY

Johan Gomez

18 (2001)

SS/F

FC Dallas

North Texas SC

FC Porto U-19

Ethan Bryant

18 (2001)

AM

San Antonio Academy

IMG Academy

San Antonio FC

KSV Roeselare

Quincy Butler

18 (2001)

F

Sacramento Republic Academy

Sacramento Republic

TSG 1899 Hoffenheim U-19

Roberto Hategan

19 (2001)

AM

Sacramento Republic Academy

Sacramento Republic

1.FC Nürnberg U-19

Ulysses Llanez

19 (2001)

RW

LA Galaxy Academy

LA Galaxy II

VfL Wolfsburg

U-19

Alex Mendez

19 (2000)

CM/LM

LA Galaxy Academy

LA Galaxy II

Ajax U-21

2019 Freiburg II

Richard Ledezma

19 (2000)

AM

Real Salt Lake Academy

Real Monarchs

PSV U-21

PSV U-19

Nick Taitague

21 (1999)

AM

FC Richmond

Carolina RailHawks

Schalke 04 II

Haji Wright

22 (1998)

F

LA Galaxy Academy

NY Cosmos

VVV-Venlo

Schalke 04

***
Many young American soccer players are training in Europe and with each passing year we will have even more cases of players whom scouts find in US academies. Here, some of the players who started their adventure in the USSDA program. They did not debut in the senior team and today play overseas.
PLAYER

AGE

POSITION

USSDA

TODAY

Aethan Yohannes

16 (2004)

DM

D.C. United Academy

AZ Alkmaar Youth

SC Buitenveldert Youth

Patrick Leal

17 (2003)

CM

NE Revolution Academy

Sporting U-17

Matteo Carbone

17 (2003)

CM

Santa Cruz Breakers Academy

Fiorentina U-17

Chituru Odunze

17 (2002)

GK

Vancouver Whitecaps Academy

Leicester U-18

Jonathan Tomkinson

18 (2002)

CB

Solar SC

Norwich City U-18

Damian Las

18 (2002)

GK

Chicago Fire Academy

Fulham U-18

Mason Judge

18 (2002)

CB/RB

Chargers SC

Eintracht Frankfurt U-19

Joshua Pynadath

18 (2002)

LW

De Anza Force SC

Ajax U-19

Ajax Youth

Real Madrid Youth

Stuart Ritchie

18 (2001)

LB

SJ Earthquakes Academy

Hannover 96 U-19

Groningen U-17/U-19

Matteo Ritaccio

18 (2001)

CM

BW Gottschee

Liverpool U-18

Travian Sousa

18 (2001)

LB

Sacramento Republic Academy

Ballistic United

Hamburger SV II

Hamburger SV U-19

Taylor Booth

18 (2001)

CM/AM

Real Salt Lake Academy

Bayern Munich U-19

Cameron Harper

18 (2001)

RW

Pateadores SC

Celtic Reserves

Celtic U-18

Coby Sultan

18 (2001)

DM

Baltimore Armour

VVV-Venlo U-19

Mateja Milasinovic

18 (2001)

CM

LA Galaxy Academy

Újpest U-19

Partizan U-19

Matthew Hoppe

19 (2001)

F

Barca Academy (Casa Grande)

Schalke 04 U-19

Indiana Vassilev

19 (2001)

LW

IMG Academy

Aston Villa U-23

Aston Villa U-17

Luca Lewis

19 (2001)

GK

IMG Academy

Torino U-19

Torino U-17

Chris Gloster

19 (2000)

LB

NY Red Bulls Academy

PSV U-21

Hannover 96

Carlos Dos Santos

19 (2000)

GK

Philadelphia Union Academy

Benfica U-23

Benfica U-17

Michael Edwards

19 (2000)

CB

D.C. United Academy

VfL Wolfsburg II

VfL Wolfsburg U-19

Gennaro Nigro

19 (2000)

DM

Players Development Academy

Roma U-19

Amet Korca

19 (2000)

CB

Solar SC

Dinamo Zagreb II

Dinamo Zagreb U-19

Corey Williams

20 (2000)

RW

Colorado Rapids Academy

Colorado Rush

Eintracht Norderstedt

Eintracht Norderstedt U-19

Christian Cappis

20 (1999)

F

FC Dallas

Hoboro IK

Jonathan Amon

20 (1999)

LW

South Carolina Battery Academy

FC Nordsjælland

Brady Scott

20 (1999)

GK

De Anza Force

1.FC Köln

Luca de la Torre

21 (1998)

RM/CM

San Diego Surf

Nomands SC

Fulham

Fulham U-18/U-23

Orrin McKinze Gaines

22 (1998)

RW

Lonestar SC

Sonnenhof Großaspach

Matthew Olosunde

22 (1998)

RB

NY Red Bulls Academy

Rotherham United

Manchester United U-23

Isaiah Young

22 (1998)

LW

Players Development Academy

Werder Bremen II

Saint Gilloise

Werder Bremen U-19

Emmanuel Sabbi

22 (1997)

RW

FC United SC

Hoboro IK

Las Palmas Atlético

Shaq Moore

23 (1996)

RB

IMG Academy

CD Tenerife

Atlético Levante

Real Oviedo Vetusta

CF Huracán

Andrija Novakovich

23 (1996)

F

FC United SC

Frosinone

Fortuna Sittard

Reading