CHICAGO FIRE – HOW NOT TO MANAGE AN MLS CLUB (PART I)
After years of neglect and stagnation, the Chicago Fire Soccer Club was at the bottom of the league and trying desperately to bounce back from it, it had buried itself in the mud. How did this happen? How did it come to that a club which as an expansion team won MLS Cup and won the U.S. Open Cup, reached the point where no one takes them seriously? Today I will take a look at the actions that led to this state of affairs.
In the beginning, I would like to point out that I originally published this article in Polish. The topic will be of interest mainly to English-speaking fans, so I decided to translate it. I've never done anything like this before. I devoted a lot of time on this article, and I hope that you will be satisfied even despite the language mistakes, for which I apologize in advance.
CHICAGO FIRE HISTORY IN BRIEF
The 1998 MLS season was the Chicago Fire Soccer Club's inaugural season, and I have to admit that they debuted with a bang. In their first season, the Firemen won MLS Cup (so far, no expansion team has repeated this feat). In that same year they also won the U.S. Open Cup. The Polish trio (Nowak, Kosecki, Podbrożny) contributed significantly to the success, but let's leave that story for another time. The Chicago Fire looked to use that season as a launching pad, but they have failed to lift the MLS Cup since.
In 2000, the Chicago Fire, still under the leadership of Bob Bradley, reached the MLS Cup final, but they lost against the Kansas City Wizards. However, the Fire won the U.S. Open Cup again as a kind of consolation. An era then ended with the departure of coach Bradley. It was the first visible crack, but the Fire were still a well-oiled machine as they continued their winning ways. In his first season at the helm, Dave Sarachan built a team that won the Supporters' Shield for the first time in history. That wasn't over as the Fire also won the U.S. Open Cup and reached the MLS Cup final, as it later turned out, the last in club history. The following year, the fans experienced missing out on the playoffs for the first. They didn't yet know that it would be routine for them in the near future. From season to season, the Men in Red looked worse, but in 2006 they mustered the last of their strength to secure the U.S. Open Cup. However, it this moment, things truly became unhinged.
Dave Sarach, Juan Carlos Osorio, Denis Hamlett, Carlos de los Cobos, and even Frank Klopas – each of them tried to refer to the successes of the past, but the truth is that no one had an idea what to do next with the team, which suddenly ceased to present themselves as at the beginning of the adventure with Major League Soccer. Finally, it was time for Frank Yallop, who got a free hand and he didn't offer anything concrete for almost two seasons. Not only that, Chicago Fire didn't win a single away game in the 2015 season for the first time in history, but could celebrate "a great season" with Wooden Spoon… Of course, Yallop said goodbye before the end of the season.
Throughout several seasons, Chicago Fire from the club with temporary problems turned into a league average, and finally, into one of the weakest teams in the entire league. Until now, the signals have been ignored, but finally, it was decided to make drastic changes, aimed at bringing concrete effects and rebuilding the club's power, which sowed terror as one of the best expansion teams in the history of American soccer and of the North American sports leagues in general, and now has become a whipping boy.
IF YOU HAVE NO IDEA WHAT SOMETHING IS ABOUT, THEN IT IS ABOUT THE MONEY
Let's go back a year. At the beginning of April 2019, James Vlahakis – a lawyer who until the 2018 season was the club's official external legal advisor; he's still very close to the Illinois team, and he sometimes helps Chicago Fire fans with legal issues – posted on Twitter information about the Chicago Fire's move from Bridgeview to downtown (it was already possible to guess that it was Soldier Filed) and about the planned rebranding.
Soon to be breaking #cf97 news from a solid source. Nice buyout for Village of Bridgeview, 2/3 of bond debt is being bought out. it is apparently a done deal. pic.twitter.com/rFP4UTVmFs

— J. Vlahakis (@jvlaha) April 2, 2019
Vlahakis' tweet caused a storm among the Chicago Fire supporters (and not only). Not even rebranding itself aroused the most emotions, but the potential change of the club's name to Chicago City Football Club and the possibility of breaking with history. Let's face it when after typing in Google the phrase "Chicago Fire" you get information about the new season of the series or the possibility of watching it online, this means that you have a huge problem as a soccer club. Even bigger when the only phrase associated with the football club is "Chicago Fire FC", where the full name of the team from Illinois is Chicago Fire Soccer Club… Of course, these are the search results in Poland, but that situation is almost everywhere because Chicago Fire is associated mainly with the show, not with the football team. Without a doubt, the club should consider the possibility of changing the name. It's not like the fans don't notice the problem, but Chicago City FC has not gained too many fans. To cut yourself off from history would also be a shot in the foot. The fans, who still come to the stadium (and there are fewer and fewer of them), are incredibly attached to it and it is hardly surprising to them, because at this moment they only have memories of the good old days…
It turned out very quickly that Vlahakis reports are not eyewash, and Chicago Fire is in for a big change. After numerous rumors about moving to Soldier Field at the beginning of July, the club officially announced that they reached a deal with Bridgeview to leave SeatGeek Stadium. Changing the terms of the lease means moving to Soldier Field in 2020, which will cost. Cost a lot of money. The Fire paid $10 million upfront plus $5 million for upgrades to the existing soccer facilities around SeatGeek Stadium. The remaining balance of $50.5 million will be paid through 2036. Of course the team will continue to train at the facility, and the club's youth academy also will be based in Bridgeview. To sum up, Chicago Fire must pay $65.5 million for moving to the city center to a huge stadium that will not fill with soccer fans even in half. How was it known that this would be Soldier Field before that news was officially confirmed? Well, the information leaked on the official website, and there were also graphics promoting Soldier Field.
Whoopsie! #cf97 pic.twitter.com/cc1IpqvYNB

— Hot Time In Old Town (@HotTimeOldTown) July 22, 2019
Regarding moving to the city, opinions among Chicago Fire fans were and still are very divided. Of course, it is no longer about the amount that will "allow you to free yourself" from Bridgeview, but rather what to do next. The average attendance is dropping, and a great atmosphere with the turn of the century for the moment you can only dream of. The return to the city has its supporters, but there are also specific arguments against it. I was shocked myself, as many fans said that, contrary to appearances, access to the stadium could be even more difficult. The distance between SeatGeek Stadium in Bridgeview and Soldier Field is about 25km and thirty/forty minutes by car. Many people expect a similar time spent behind the wheel when trying to reach Soldier Field, all due to traffic in the center. Well, let's assume these are some voices of fans who were closer to Bridgeview than the center. In this case, it must be assumed that some of these attached fans will give up commuting to the center, and the club will lose potential revenue and, above all, a fan who cares about the fate of the club. As it turns out, supporters will complain about staying in Bridgeview and moving to the center. It is also obvious that football fans will not fill the Chicago Bears (NFL) home. Over 60,000 fans will not suddenly appear at the stadium, given that Chicago Fire's average attendance last season was the lowest in the league. We will have to deal with a similar case as the New England Revolution, where at Gillette Stadium even a dozen thousand fans look almost comical. Considering the possibility of breaking with history, it should be assumed that after the initial boom for a completely new brand, it may turn out that all this action was not worth the trouble and will be one big financial fiasco, and ultimately it is about building a brand that will be to earn and bring tangible profits.
Many fans joined the spontaneous #SaveTheFrire movement, which was based on the #SaveTheCrew action. Even Peter Wilt, who was the first President and General Manager of the Chicago Fire, joined #SaveTheFire and posted a huge statement on Twitter. He opposed most of the changes, like most supporters. He's a hero of die-hard fans, no doubt.
No one asked, but here are my thoughts on #SAVETHEFIRE pic.twitter.com/dmXMzqyeDT

— peter wilt (@PeterWilt1) July 24, 2019
However, changes were unavoidable. Some of them were confirmed by Don Garber, giving an extensive interview to Yahoo Sports on the twentieth anniversary of becoming MLS Commissioner: "I haven't seen Peter's letter but I'm thrilled that the Fire have reached an agreement with the city of Bridgeview to move. While it was the right thing in 2006, it really isn't right for the MLS team in Chicago today. Chicago is a great soccer market and we need to deliver a great product and environment and that's really what my focus is on in my discussions with ownership. I don't have a strong preference. I'm going to leave that to ownership. They've been doing research and spending time with outside branding experts to come up with a good long-term solution, one that's going to be driven by research and data and less by emotion".
The leak about radical changes in Chicago Fire was almost certainly intentional. In April 2019, new marketing specialists and public-relations experts were employed. A "gentle" attempt to explore the ground among supporters undoubtedly enraged them, but also provided decision-makers with plenty of information. At the time, I wondered how much they would use them, and how much they would follow their path, which would most likely scare away the current supporters. Although it wasn't windy in Illinois, the hot atmosphere didn't change the decision and eventually the complete rebranding and change of name to Chicago Fire Football Club became a reality.
However, it is worth looking at what led to this situation. After hired and fired other coaches and terrible play, optimists thought that Chicago Fire would finally get back on their feet and slowly rebuild their position on the US soccer map. How is it possible that Chicago Fire played even worse, fans were sick of it, and representatives of the front office add fuel to the flames and think about a new profitable brand, which at the moment is a big fat blank?
WHAT WENT WRONG AND WHY EVERYTHING?
Let's go back to the moment of saying goodbye to Frank Yallop. After a disastrous 2015 season, someone finally went to their senses that it would be impossible to "powder the corpse" any longer and it is necessary to take concrete action if Chicago Fire wants to ever get back to the top again. Nelson Rodríguez became the club's general director, and it was from him that the whole revolution began.
On November 18, 2015, a new era began. New GM immediately made the first moves, and more specifically, releases. The Fire released, among others, goalkeeping coach, physical preparation coach, scouting director or operations director. A few days later Veljko Paunovnić became the new Chicago Fire coach, who just won the U-20 World Cup with Serbia. It was these two who were supposed to lead the club from the Windy City to the top again. A lot of time has passed since then and have to be clear that something went wrong. Chicago Fire still have a huge problem catching up with the peloton, and the 2017 season can be considered an exception to the rule. Anyway, incorrect dreamers were brought to the ground very quickly in the Knockout Round after the first long promotion to the playoffs. It was a terrible game against New York Red Bulls. They lost in front of their audience and we can talk about returning to the starting point. No one is surprised that Paunović said goodbye after the 2019 season. However, the question remains: why so late?
HOW NOT TO BUILD ROSTER – GUIDE ACCORDING TO CHICAGO FIRE
With few exceptions, Chicago Fire is an almost perfect example of how not to build an MLS roster. To fully understand the poor situation of Men in Red, you have to cite at least some of the Major League Soccer rules that each club must adapt to when building its roster. Contrary to appearances, it is very important to understand what mistakes were made by the front office from Illinois. Each club is allowed up to 30 players on its first team roster. Also each MLS team was given the right to have eight international players on its roster and each subsequent expansion teams were given the right to have eight international roster slots for its inaugural season. These roster slots are tradable, in full season increments, such that some teams may have more than eight and some teams may have fewer than eight. The 2019 salary cap is exactly $4,240,000 per team ($4,035,000 in the 2018 season). Of course, this is not a fixed amount, because … teams exchange International slots, players and smaller or larger amounts of General Allocation Money (each team had $200,000 at their disposal) and Targeted Allocation Money ($1.2 million for the 2018 season and $1.2 million for the 2019 season; amounts could increase to $2.8 million). To make things a little easier, I will use the abbreviations GAM (General Allocation Money) and TAM (Targeted Allocation Money). What is the money for? GAM mainly to sign players new to MLS (that is, a player who did not play in MLS during the previous season), to re-sign an existing MLS player, off-set acquisition costs (loan and transfer fees), to reduce the Salary Budget Charge of a Designated Player to a limit of $150,000, to reduce the Salary Budget Charge of a Player whose Salary Budget Charge exceeds the Maximum Salary Budget Charge to a limit of $150,000. TAM mainly to sign a new player provided his salary and acquisition costs are more than the Maximum Salary Budget Charge, and the club also may use all or a portion of the available Targeted Allocation Money to convert a Designated Player to a non-Designated Player by buying down his Salary Budget Charge at or below the Maximum Salary Budget Charge. The whole is much more complicated, but today it's not about it.
In the 2018 season, Chicago Fire officials spent $13,824,204 on players' salaries. You can say that this is a kind of distortion, because it is the amount of the salaries of DP players, and it is known that this does not count in the salary cap. The problem is that even without spending on DP, Fire spend a lot of money. Only three clubs paid their players on average more than Chicago Fire (Toronto FC, LA Galaxy and New York City FC). Yes, Atlanta United, a team that won MLS Cup 2018, paid less than Chicago Fire… Los Angeles FC, Seattle Sounders, Orlando City, D.C. United or Portland Timbers were also behind them. Not only that, according to the Sporting Intelligence report (Global Sports Salaries Survey 2018), average salaries in Chicago Fire were higher than in 1. FC Nürnberg, Empoli and a large number of Ligue 1 clubs. Exactly 40% of clubs in Ligue 1 paid on average less than Chicago Fire.
Chicago Fire are overpaying, it's obvious. It should be added at this point that Fire do not belong to the richest MLS clubs. However, this does not bother them in splashing the cash. You might think that since the club is putting so much money into the salaries of players, it is certainly associated with high quality. Nothing could be more wrong. And while in Major League Soccer you can't talk about a retirement league, Chicago Fire is an exception here. The average observer can say that this is a club that even liked to sign players in the elderly who besides have huge problems with playing at even a decent level.
Such a short introduction is enough to briefly illustrate that Chicago Fire's activities on the transfer market leave much to be desired. It is therefore worth taking a closer look at some of them.
2016 SEASON
The first year of coach Paunović's work can be considered lost. A lot of incomprehensible moves during SuperDraft, which you'll be able to read later and even more unsuccessful moves on the transfer market. It was then that the team from the Windy City joined, among others – David Arshakyan. You have no idea who I'm talking about? I am not surprised at all. The boy was to be hope in the offensive and turned out to be a total non-talent, who appeared in training for two seasons, sometimes ran out of the field as a disguise and just grab salaries. The enlistment of "averages" from MLS is also better left unsaid. At the same time the club got rid of the promising homegrown player. Harry Shipp turned Chicago for Montreal. It seemed that the Firemen would kick themselves, but Shipp after a good 2015 season wait until four years after for referring to performances at a similar level as in 2015. The only transfer that deserves attention and praise is the signing of Johan Kappelhof from Groningen. Although it was not difficult to stand out against the background of tragic defense, it is worth noting that he remained in roster until today.
As always, several players in the team should be considered an unnecessary allowance and budget burden. Almost no Major League Soccer club can afford it, sensibly building the depth, but in the case of Chicago Fire we can hardly talk about salaries adequate to the skills and role in the team, so a summary of unnecessary expenses in the 2016 season.
2017 SEASON
The revolution is the perfect description of what happened before the start of the 2017 season. Bastian Schweinsteiger was, of course, the greatest strengthened. Nemanja Nikolić, Dax McCarty and a homegrown player – Djordje Mihailović also joined the team. Each of these transfers was successful, even though some of them to the ideal of a lot missing. While the transfer of Nikolić was a bull's-eye (I'm just talking about the 2017 season), I have some doubts about Bastian's transfer. The very idea of transfer Bastian to Fire wasn't really bad, but he was an elderly star with a huge DP contract. If he was the second David Villa or Wayne Rooney, it would not be a problem. Although even Rooney earned less than Schweinsteiger, and this is a problem. And I'm not talking about the position on the field, but the commitment and added value to the team. In the case of Bastian, we can currently talk about a medium quality center-back who played in a changed position and interlaced good games with bad ones, and the advantage of those bad ones was significant. Despite my most sincere intentions, it's difficult for me to say that Bastian's transfer was a great deal and the best option of the Chicago Fire at that time.
Dax McCarty's trade from New York Red Bulls seemed like an incredible opportunity to contract an experienced defensive midfielder at that time, but also showed the path they were taking by Fire. NY Red Bulls got rid of a 30-year-old Dax, who played in the same position as a talented young homegrown player. As it turned out, Tyler Adams conquered the league, proved even better than Dax, and entered the Bundesliga last season without any complexes. Meanwhile, in Illinois they stayed with a veteran who plays less and less every year…
Chicago Fire does not specialize in good selections during the MLS SuperDraft, but just in the 2010 season they hit perfectly. A player selected with a relatively low pick rarely turns out to be an outstanding talent. Sean Johnson turned out to be such a great player, selected in the fourth round with the 51st overall pick and the last Generation Adidas player. Chicago Fire was terrible at that time, but the goalkeeper did what he could. So what Fire did? Instead of starting to build a team from a relatively young and really good goalkeeper, they traded him to Atlanta United, who in turn traded him to New York City FC. After all, NYCFC signed one of the best goalkeepers in the entire league. Another example of how not to do business…
2018 SEASON
In the fall of 2017, Chicago Fire were brutally verified in the first round of playoffs. What did they do? After a very good season Fire was decided to trade David Accam, who took the weight of the game on his shoulders during the whole season. A player who fits perfectly into the Windy City and didn't feel so good anywhere else. Although Nemanja Nikolić won the MLS Golden Boot and without the Ghanaian winger he could only dream of this distinction. As a reward, Accam learned that during SuperDraft 2018 he would change colors. Chicago Fire took $300,000 GAM and $900,000 TAM, but, as is usually the case with them, they did not use this money for good, and most importantly they lost David Accam, who was priceless for this team.
It seemed that signing Aleksandar Katai in Accam's place was a hopeless idea. After all, the Serbian in the 2017/18 season played just 52 minutes in the colors of Deportivo Alavés. Initially, the winger was loaned until the end of June. However, it turned out, that he plays perfectly and Nikolić stood in his shadow. When something it's too easy for Chicago Fire, almost every time gets a little wild. That was also this time. Initially, Deportivo Alavés did not allow buying Katai. There were complications and other possibilities for messing around. After many debates, it was decided to extend the loan… until July 10, the same year. A day later an agreement was reached and a player was bought out, but the final amount was not disclosed. As promised, the 28-year-old got a Designated Player contract, but just like Nikolić after the first very good season, in the following year he could not refer to the previously represented level. Ultimately, in off-season 2018, almost no significant reinforcements were made, but contracts were offered to average-level players from SuperDraft, also they took International slots. As standard, Chicago Fire moved forward and then immediately backed away. In some ways, nothing changes…
2019 SEASON
The roster in the previous season is primarily a disappointment. Brandon Vicent ended his career at the age of 24. Of course, gaps at left-back were not filled. A year older, Christian Dean also hung up the boots once for all. Experienced joker, Alan Gordon also decided to retire. The defense line was strengthened 30-year-old Marcelo, who in the second part of the season almost did not play. Later, another defensive veteran was transferred in, a 34-year-old Jonathan Bornstein. The goalkeeper's equally weak position was strengthened by David Ousted (34), and a 33-year-old Kenneth Kronholm joined during the season. A real retirement home…
Relatively successful transfer moves were signed Nico Gaitán, Przemysław Frankowski and Francisco Calvo. Certainly, such a good game after C.J. Sapong was not expected, which signed as a joker, and he was one of the most effective players of Chicago Fire. Of course, more was expected, but it came out as always.
To build an MLS roster, you have to be good head-on. However, this is not impossible. Just look at New York City FC. They move great in the reality of Major League Soccer, have incredible depth, manage money and academy in a praiseworthy way. Unfortunately, it's far from that in the club from Illinois. Already after the league's start, the Chicago Fire roster suddenly found as many as 12 International players. Let me remind you that each team can have such players a maximum of eight unless they have obtained an International roster slot from another team. Chicago Fire had only one extra slot, which caused a lot of problems. They had to make things right and loan out several players just before the start of the league. Chicago Fire were forced to loan out Raheem Edwards, who was the only one who could play in this position, and they did not a single nominal left-back. The left wing-back, who can also play as a left-back or left-winger, was loaned out to Lansing Ignite FC (Chicago Fire's affiliated club in the USL League One, third division). Elliot Collier met a similar fate, but in his case the loan to Memphis 901 FC (USL Championship, the second division) proved to be long-term. This does not change the fact that the club must cover his salary ($57,225). Mo Adams may have shown a better side than Bastian or Dax McCarty in some games, but he was also sent to the USL, and then traded to Atlanta United for pennies. Nicolas Hasler also left the club, and it is worth recalling that less than a year ago Chicago Fire gave Toronto FC in return for him one of the greatest talents of the MLS SuperDraft 2018 (Jon Bakero) and paid extra in allocation money. Maybe then Fire should start looking for players who will match the coach's concept, will be relatively young and have a green card? And let's stop saying that the problem is money. After all, as per MLS capabilities, Chicago Fire spent a fortune to keep players who are overpaid.
As you know, in MLS the amounts of all contracts are disclosed twice a year. In the 2019 season, the list appeared on June 1, and you could immediately see that Chicago Fire did not show off well when it came to contracts for Designated Player players. One of the weakest clubs in Major League Soccer paid almost $9 million to three aging players, none of whom show a level worthy of such huge contract. It is worth noting that only LA Galaxy and Toronto FC pay more for maintaining their DP. Needless to say, both clubs employ "slightly" better players. For the average MLS observer, it may also be surprising that for DP contracts they allocated almost $3.5 million more than the then champion, Atlanta United. Los Angeles FC, New York City FC or Seattle Sounders also paid less, and we're talking about clubs from a completely different level…
Last year, the expenses of the Firemen went up again and instead of ~$13.6 million, they paid their players around $16.9 million. Only Toronto FC and LA Galaxy spend more than the club from Illinois. Chicago Fire could successfully give lectures on signing weak players and, above all, spending a fortune on them. I emphasize all the time that we are talking about a league where the salary cap oscillates around $4,240,000 for the whole team.
YOUTH AND ACADEMY
The patch of retirement league has stuck to MLS at one time, even though almost every soccer fan knows that this is one of the most harmful myths that has long been overthrown and the average age in the league is getting lower every year. The exception to the rule is Chicago Fire. The average age of the roster in the previous year is 26.85. It looks much worse if we look at the starting eleven. In recent games of the 2019 season, the average has ranged from ~29.8 to ~30.7 year old…
The only players under the age of 23 who got a chance to play during the 2019 MLS season were Jeremiah Gutjahr, who largely played only because Paunović had no alternative, and Djordje Mihailović. Mihailović is a player with huge potential but the coach has not given him so many chances lately. Compared to other Major League Soccer clubs, it looks simply bad. Those who try to follow MLS know well that Fire shouldn't comfort yourself with the hopeless result of Houston Dynamo, regarding the U-23 player ranking in the 2019 season. The club from Texas has many players born in '96 and '95, and Mauro Manotas or Alberth Elis will be sold at a profit, which can't be said for most Chicago Fire players.
For years, the USMNT January Camp is intended for Major League Soccer players who have the offseason at the time and have not yet started preparations for the new season. Last year, national call-ups from Gregg Berhalter got to include the Chicago Fire homegrown player, Djordje Mihailović, who scored his first goal in national colors in his debut. Three weeks earlier, Nelson Rodríguez said in an interview with ExtraTime Radio (podcast hosted by MLS journalists) that the academy is not good enough to demand a reserve team. Around the same time, the contract with the first team was signed by 17-year-old left defender Andre Reynolds II (born in 2001), who was called to MLS Homegrown Game vs. Chivas U-20.
In August 2018, the general manager asked MLS about the possibility of resignation of the academy. Rodríguez also considered selling the name of the academy… He was quickly reminded that the academy was one of the requirements that the teams playing in this league must meet. However, this did not prevent the further Fire teams from withdrawing from the U.S. Soccer Development Academy. It began with the withdrawal of the U-13 team, and the following year would also be the U-18/19 team. The official explanation for the resignation of U-13 at the USSDA level was that this age category is "too weak competition". At the same time it was decided that they will play in the league not dependent on USSDA in this age category, but in around Chicago. If you have no idea what something is about, then it is about the money. Anyway, from next year, only U-14, U-15 and U-16/17 teams will remain in USSDA. Finally, the U-13 team returned to the game this year, but for me is still simply wangling.
In your academy there were players like Harry Shipp, Collin Fernandez, Djordje Mihailović, Andrew Gutman, Grant Lillard, signed before 2019 season Andre Reynolds II, Jeremiah Guthjahr or Gabriel Slonina, but you say that the best idea would be simply to get rid of the academy. Well, the most sensible solution. Finally, it is worth adding that Chicago Sockers (the academy; previously an amateur team in the fourth division, where players from university leagues often played), played such players as Michael Bradley, Chris Mueller Will Johnson or Mike Magee, which nobody from Chicago Fire did notice. So let's not say that you can't find soccer players in this city in the US. What would they say in Kansas City or Salt Lake City? Oh, well, Sporting Kansas City or Real Salt Lake has one of the best academies in the country and every year new homegrown players join the first team. They can't find players either? Of course not, they simply focused on the development of young players, expanded their academies, have strong affiliate teams in USL and benefit from it. The Seattle Sounders Academy was one of the weakest in the country, so a five-year recovery plan was introduced and the first effects can already be seen today, in affiliate team is played by almost teenage homegrown players alone. In Chicago, they don't know yet how to go about it, but they can still pretend that everything is fine.
However, the most absurd is the story of Andrew Gutman, who was mentioned earlier. Chicago Fire decided their homegrown player was not good enough, and they didn't offer him a contract, so he joined to one of the best NCAA teams, Indiana Hoosiers. He played very well as if that wasn't enough, he reached the 2018 MAC Hermann Trophy (is awarded annually to the United States's top male and female college soccer players). Chicago Fire still could sign him. After four years in the NCAA, the 22-year-old was offered a contract for a year with one of the lowest salaries in the league (just over $50,000 a year). Several clubs also wanted to sign him, including Celtic. No wonder then that Gutman chose a huge European club, with which he signed a 3.5-year contract. However, the problem was a work permit. The Scottish club wanted to loan Gutman for one-season long to Nashville SC, where player could develop himself. Nashville SC's join MLS from the 2020 season and the loan has been blocked by the league. It should be added that transfers in MLS differ slightly from transfers in Europe. All clubs are subject to the league and all offers are sent to the MLS headquarters. Why did MLS decide to block this loan? Chicago Fire still had the rights to the player. A club which has no alternative on the left-back, did not want one of the best NCAA players… Where is the logic in this? It seemed to purposely "punish" the player for not signing an unfavorable contract with Chicago Fire, and he simply didn't have to do that. Finally, Gutman went on loan to the Charlotte Independence (USL Championship), where he was one of the most important players in the team. FC Cincinnati noticed it and bought the player's rights for $50,000 GAM and selection in the third round of the SuperDraft 2020. In fact, they traded the rights to the perspective player for pennies. Of course, the player still had a valid contract with Celtic, but he has been loaned to FC Cincinnati until the end of the 2020 season and made his debut in the away derby game against Columbus Crew. Not only that, next to Przemysław Tytoń, he was one of the best on the field. Chicago Fire can once again kick themselves because there are indications that Gutman may be an even better player than Brandon Vincent, whom they got rid of, but more on that later.
MLS SUPERDRAFT
Chicago Fire can't build a solid roster by signing good players from Europe or South America, transfers inside MLS, and even by basing on their homegrown players from the academy, so maybe they do a superb job during the MLS SuperDraft? After all, if they are weak (there is no doubt), they get the opportunity to choose the best players from the universities. Unfortunately, clubs from Chicago have a strange tendency to make incomprehensible decisions during the draft, both Chicago Bulls and Chicago Fire. They messed it up completely, so it's worth quoting some examples from recent years.
2015 MLS SuperDraft
Matt Polster was selected with the 7th overall pick and it is the only move worth noting during the 2015 MLS SuperDraft. At first, he played in the middle, then he was moved to right-back and it turned out that he was doing well there. He spent the 2018 season treating his knee injury and returned on the last two games of the regular season. Of course, the contract with him was not extended because the proposed offer did not satisfy both Polster and his agent. Bastian Schweinsteiger and Atlanta United Technical Director Carlos Bocanegra assisted Polster in signing the contract with Rangers. The Fire did not sign any player as a substitute, and now they hope that Brandt Bronico, like Polster, will start to play at a high level as right-back instead of as a midfielder…
2016 MLS SuperDraft
However, the biggest remorse of Chicago Fire should be Jack Harrison. In the 2015 season, players from Windy City played so badly that they "won" the first overall pick in the SuperDraft. And they selected Jack Harrison, it could not be otherwise. In 2014, he won the USYSA Golden Ball, a year later he was the winner of the most prestigious individual award for young athletes from American high schools, i.e. the Gatorade Player of the Year. He was too good so he spent only a year in the NCAA (Wake Forest University). He was to be hope for a better tomorrow for Chicago Fire. As it turned out, Fire immediately traded him to New York City FC for the fourth overall pick, which the Fire turned into Stanford defender Brandon Vincent. For the first time in the MLS SuperDraft history, the club traded its first selection. Was it worth it? Harrison got into MLS with a bang and created a great duo with David Villa. In his first season as a professional soccer player lost the competition for Rookie of the Year only with Seattle Sounders homegrown player, Jordan Morris. A year later, he participated in almost 35% of the goals scored by NYCFC. In 2018, Harrison signed for Premier League side Manchester City. Currently, he plays for Leeds United on loan for the second consecutive season.
What happened with Brandon Vincent, who was drafted as the fourth overall pick? On February 5, 2016, he made his international debut for the United States, before he could make his debut in the MLS. He was one of the best left-backs in the league, irreplaceable in Chicago Fire. He was the player who, along with David Accam, contributed the most to Nemanja Nikolić won 2017 Golden Boot race. However, I remind you that we're in Illinois, so this story can't have a happy ending. 24-year-old Brandon Vincent hung his boots once and for all after the 2018 season. It is worth noting that he is a Stanford graduate, and he holds a bachelor's degree in economics, and to do this job he would earn more than playing MLS (he's guaranteed compensation rated $144,250; base salary rated $122,375). Worse players earned more than he, and it should be noted that the player himself did not expect a huge increase. Ultimately, Vincent decided to end his career and the Fire was unable to keep one of their best players. Later, documents leaked into the network and it turned out that Nelson Rodríguez was going to get rid of him and trade him to FC Cincinnati… Vincent himself obtained one of the most prestigious and global professional titles awarded in the financial industry (CFA), and now he is responsible for development and strategy at Asurion, which provides insurance for smartphones, tablets, consumer electronics, devices, satellite receivers, and jewelry, employs over 19,000 employees, serving over 300 million consumers. And to think that a small increase was enough for Brandon Vincent to play on the MLS field today instead of working a tie.
2017 MLS SuperDraft
After trading Jack Harrison a year earlier, Chicago Fire didn't draw any conclusions and this time they traded the third overall pick to New York City FC for $250,000 GAM, and NYCFC selected Jonathan Lewis from Akron (one of the best university soccer teams). With the eleventh pick overall Fire selected Daniel Johnson, who in the first season torn anterior cruciate ligament, and then he never got a real chance again. He hung his boots once and for all after the 2019 season. As if that wasn't enough, they traded $75,000 TAM to Toronto FC for 26th and 27th picks overall. Stefan Cleveland proved to be a poor goalkeeper for the first team and did not follow in the footsteps of Sean Johnson mentioned earlier, and Guillermo Delgado did not even sign a contract with the first team. The only survivor is Brandt Bronico who was selected with the 47th overall pick.
2018 MLS SuperDraft
Another year, more Chicago Fire's trouble. They traded the 15th overall pick, $75,000 GAM, $100,000 TAM and their goalkeeper, Matt Lampson, to Minnesota United for the fifth overall pick. All this to selected Jon Bakero, then put obstacles in the way of him, and finally, traded him to Toronto FC for practically nothing. Yes, Polish fans can associate this name because he is the son of José Maria Bakero, and once played in the youth teams of Lech Poznań. Bakero played at one of the best soccer teams in the US, represented the colors of Wake Forest University. Just like Gutman, won the MAC Hermann Trophy award and was one of the most technical players who was selected in the 2018 SuperDraft. The Chicago Fire were not solid depth at Bakero's position, but he played only 75 minutes in MLS, and coach Veljko Paunović all the time loaned out him to the affiliate club. There he played very well, so Paunović shorted the loan and loaned him again, and the entire cycle was repeated. Finally, July 20, 2018, they traded him and $50,000 GAM to Toronto FC for Nicolas Hasler. In the 2019 season, Toronto FC loaned out him to the current strongest team in USL Championship, Phoenix Rising. He regularly played in the starting lineup, creating 70+ goal situations for his teammates (only the team captain, Solomon Asanté created more). Phoenix Rising broke the USL record, winning 20 matches in a row. Bakero is still an important link in Phoenix Rising.
In the same year, Chicago Fire paid Real Salt Lake $85,000 GAM for the tenth overall pick, which the Fire turned into the International player, Mo Adams from Syracuse, who was one of the youngest players in the 2018 MLS SuperDraft. However, the Englishman did quite well., as a defensive midfielder. Chicago Fire loaned him just like Jon Bakero, and when he got the green card, they traded him to Atlanta United for $100,000 GAM, and he scored the first MLS goal on his debut in new colors. Also, in the same year Chicago Fire selected Diego Campos (Costa Rican) or Elliot Collier (New Zealander). All four got MLS contracts, although the club had considerable problems with the limit for International players. Although this sounds like a joke, it is the truth.
2019 MLS SuperDraft
The Fire traded the fifth overall pick for $100,000 GAM and the 15th overall pick. Colorado Rapids selected Andre Shinyashiki, who saved his teammates' skin several times. They also traded the 15th overall pick, but this time to Minnesota United for $50,000 GAM. Loons selected Chase Gasper, who is one of the basic substitutes on the left-back, where Chicago Fire has huge shortages. Chicago Fire selected only Ebenezer Ackon from Ghana with the 53rd overall pick. They did not offer him a contract, and the 23-year-old is now the starting lineup player of San Antonio FC. Chicago Fire, as always, gave up the fight for a few really good players. Nothing new.
CONFUSED COACH
As you can see it is difficult to make reasonable transfers in the Windy City, betting on young homegrown players or using gray cells during the SuperDraft. Veljko Paunović also had his issues. Initially, a large group tried to defend him. After a poor 2016 season, which was considered as temporary season, the following year Chicago Fire finally began to play at a decent level. Nikolić, Bastian and Dax McCarty did their job. The last two have created a solid midfield, which Chicago Fire has missed so far. Nemanja Nikolić proved to be a great poacher, scoring 24 goals in the regular season (all from the penalty area). However, I had repeatedly emphasized that this was largely due to David Accam and Brandon Vincent. It was not perfect, but few picked on Paunović because the third place in the league after the regular season was a really good result. At that time, hardly anyone paid attention to the first signs of the strange Veljko's choices. In the 2017 season, benching David Accam's raised the most controversy. Unofficially, the reason was to transfer gossip, connecting him with the move to Europe. Ultimately, they managed to keep him until the end of the season only to trade him to Philadelphia Union. Paunović even when benching a Ghanaian player was not consistent. If Chicago Fire started losing a match, and it happened quite often, Accam was coming in to save the team as a super joker. Anyway, very often effectively. The Nikolić & Accam duo is one of the best that could have happened to Chicago Fire, unfortunately, we didn't see the continuation, and the potential was unreal.
We could see the first attempts to rotate positions already in the 2017 season, but the coach achieved the championship in this field during the next two years. I have already mentioned that Bastian Schweinsteiger was heavily overpaid, even for a defensive midfielder. It was getting more interesting when Paunović decided to move him to center-back and play a 3-5-2 system, where Bastian often made disastrous mistakes. You could make a nice compilation containing all of Bastian's mishaps. The coach insisted on the new role of an already experienced soccer player. He also changed tactics all the time, which did not affect. During the 2018 season, Chicago Fire won just eight games (including two away) and everything returned to "normal". They only won when Nikolić or Katai scored a goal. Effect? 32 points in the regular season and 61 goals conceded. Of course, they could only dream about the playoffs, and in the East Conference they overtook only Orlando City. It is a big fault of Paunović, who could not shape the team's game, which he began to create from scratch with Nelson Rodríguez. Some players were signed at the trainer's explicit request.
The last season it was not much better. Veljko Paunović rotated even more, and only single games could be considered as really successful. Chicago Fire won just two away games. At the beginning of August, they won against Houston Dynamo (they after a series of defeats dismissed Wilmer Cabrera). In the last game of the season Fire won against Orlando City… That was not saying much about the genius of a Serbian coach. It is also worth mentioning the numerous position changes that were catastrophic. Bastian has been permanently moved to the center of defense, and the good games were interlaced with the weak. There were definitely weaker ones. Przemysław Frankowski played that season as a right-winger, left-winger, right wing-back, right-back, sometimes even as an offensive midfielder. How was he supposed to show all his potential? In the absence of a right-back, Paunović tried to move Diego Campos there, who had definitely changed position, Brandt Bronico was supposed to be the second Matt Polster, but both experiments were considered not entirely successful and Pauno decided to move the center-back, Johan Kappelhof on right-back. Jeremiah Gutjahr, debuting in the MLS, played on the left-back, although he is a nominal defensive midfielder. Francisco Calvo proved in Minnesota United that as a center-back, he can't keep a cool head, and he is much more useful as left-back or wing-back, but when Fire signed 34-year-old Jonathan Bornstein, Calvo was moved to the center of defense line… In recent matches C.J. Sapong from the nominal striker "was promoted" to midfield player. How could such chaos lead to success? To be honest, I don't know how Veljko Paunović did not get lost in all this, but promotion to play-offs was a distant vision. It should not surprise anyone that finally they were decided to dismiss the coach, who had the absolute support of the CEO and a free hand in his actions. However, he proved that from a weak team he can make a disastrous team, congratulations. None of the Chicago Fire coaches had as low average points per game as Pauno. You can ask yourself why Serb has just been released, but the fans can be happy that it finally happened because the duo Nelson Rodríguez & Veljko Paunović seemed inseparable.
Here's the reality of it. Nelson Rodriguez and Veljko Paunovic have very little to show for their time in Chicago. The stats are pretty damning. The best they can hope for after Sunday's match against Orlando is a 1.18 PPG average and one playoff appearance in four years. #cf97 pic.twitter.com/qCvuKMBxDZ

— שӞᵽªᴙǡƿȺࢮתϔ (@TrueMartyParty) September 30, 2019
FANS WHO WANT NORMALITY
In recent years, Chicago Fire effectively discouraged fans from coming to the stadium. The average attendance is one of the lowest in the league, so it's no surprise that Fire is trying to do something about it. However, the changes announced by Vlahakis may lead to an even worse situation. Currently, only the most die-hard fans have not turned their backs on the Firemen, because they still remember the good old days and love this club. Bastian boom is long gone. Higher attendance can be noted, e.g. during the match against LA Galaxy and not at all due to the level of soccer, but the person of Zlatan Ibrahimović (now Chicharito). The conflict between the club and support Section 8 had voluntarily abstained from organized support at SeatGeek Stadium (then known as Toyota Park) since June 8, 2018, in response to the Fire's removal of supporters group Sector Latino's privileges as such, the cancellation of season tickets of patrons in section 101 of the stadium and the ban placed on several individual supporters for the remainder of the 2018 season, while publicly voicing their displeasure with the measures taken by the club in multiple occasions. After several months of boycott against the Chicago Fire front office's suspension policy, fans returned to in-stadium support but some things cannot be forgotten. For me, as an MLS supporter from Europe, the boycott was completely understandable. At the same time, I am extremely sorry for all Chicago Fire supporters who did not deserve such treatment.
Let's leave this topic, let's go further. It was also not normal to play a Bastian Schweinsteiger's farewell match with Bayern Munich at the most important moment of the 2018 season, i.e. at the end of August… Chicago Fire went to Europe and did not play a single league match for over 20 days. And all this at a time when the rest is fighting for playoff spots and rather not thinking about friendly games. There were excuses that the date was set long before the match was played. This is true, but since the beginning of Major League Soccer it is known that the fate of the playoffs is being decided at this moment. In addition, everyone will know the exact schedule at the beginning of January. It is also worth mentioning that the Firemen wanted to repeat the 2017 success, what was the promotion to the playoffs. Therefore, it is logical that at the most important moment of the season they decided to take time off. After returning from European voyages, the players of Paunović won only one match, drew two and lost four.
Last season, the average attendance was even worse, although the fans officially ended the protest and went back to supporting. On average, 12,324 supporters appeared on SeatGeek Stadium, which means the worst turnout in the club's history. If someone thinks that moving to Soldier Field will cause a sudden increase in the fans expected from the Fire's front office, it seems that he really lives on a different planet and this is quite a euphemism.
***
Chicago Fire has a lot of problems that are accumulating at an alarming rate. When other clubs think about what detail might outweigh the surprise to other rivals, the front office from Illinois doesn't seem to think at all. Currently, Chicago Fire FC is the worst-managed club in the league. However, this doesn't mean that there is no hope for them. First of all, it is necessary to put out the fire, which has long consumed the entire club. Initially, the fire was only smoldering, but recently it has spread to all Chicago Fire activities. Extinguishing the fire itself will not change anything yet, but in the Windy City, it was finally decided to let fresh air into the ossified structures of the club. How can Chicago Fire cope with a tidy up of this mess and what actions have already taken?
CHICAGO FIRE – HOW TO REBORN FROM THE ASHES (PART II)
Chicago Fire FC is a perfect example of a club that wastes enormous potential and alienates the last supporters who have not turned their backs on them. In recent years, they have reached the bottom, both in terms of sport and organization, which I described extensively in the first part. I really don't want to believe that they may fall even lower, so now, we need to think about what to do next and what the future is like before the Chicago Fire.
The club will not be reborn like a phoenix from the ashes. It is certain. Here it takes time and works on the very basics. Changes in transfer policy, sound money management, expansion of the academy and finally rebuilding the relationship with fans. Chicago Fire is a solid soccer brand that is largely based on history. The Chicago Fire front office has almost the full support of the city, but it would be appropriate for their activities to also have the approval of the fans. It all looks beautiful on paper, and how is it?
CHICAGO FIRE

SOCCER

FOOTBALL CLUB
After the tweet of James Vlahakis on Twitter, it was clear that changes in Chicago Fire were inevitable. After the announcement of the move to Soldier Field and the huge debt ($65 million), one could think that the Fire front office would survive on their wits and at least rebranding will be consulted with fans. Nothing could be more wrong. During the previous season, new marketing and public-relations specialists were hired by the club. By their recommendations, they decided to completely rebrand. Not only the new (old) stadium, but also the new club name, new colors, and logo.
On November 21, 2019, the fans were officially able to see the effects of rebranding and from that day we are talking about the Chicago Fire Football Club instead of the Chicago Fire Soccer Club. If you thought that such a change caused the club to be positioned higher in search engines, then you are wrong. The front office had some really interesting options referring to the history of the city, club or region. It was decided on the most hackneyed Football Club…
Of course, fans did not like that change, which also should not surprise anyone. Even some players refrain from commenting on the changes because they would have to criticize their team, which is not welcome. Initially, Fire said that we would have to wait a bit for the rating and now you can't criticize the club's activities. The same people, after the criticism, began to intensify, tried to figure out whether the logo could be changed. They forgot one important thing. Such changes are possible once every two years… It remains to congratulate on their competence and insight on the subject. Yes, these people got money for it.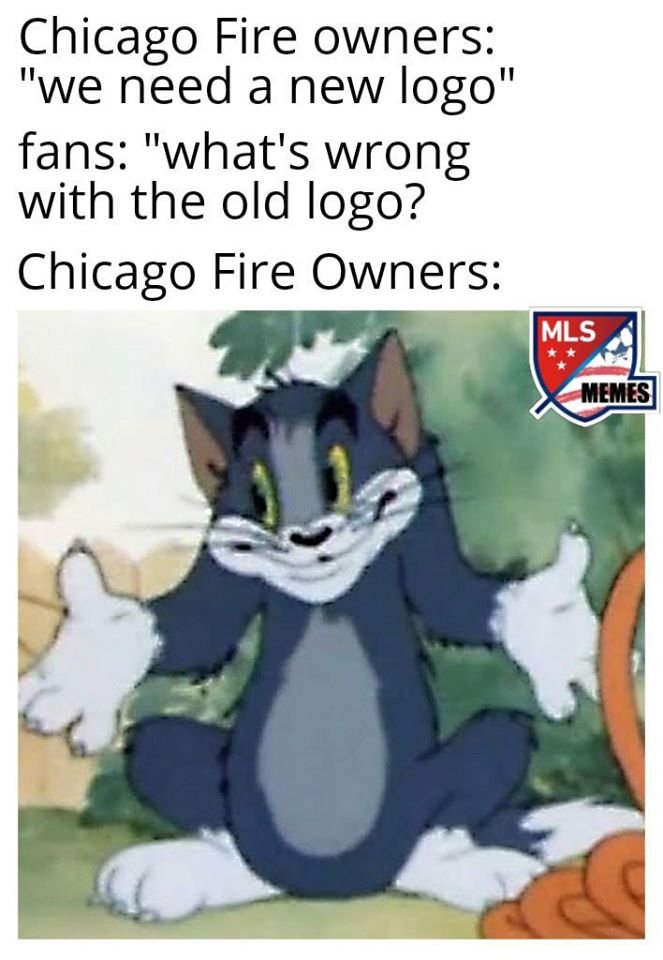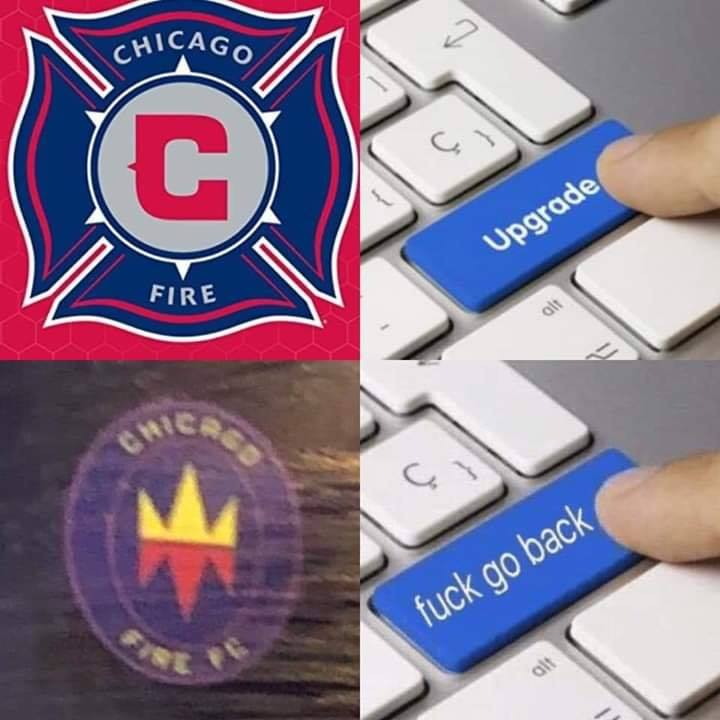 Let's leave this terrible logo, although I recommend a free moment to review all the memes related to this topic (I guarantee a better mood or a nervous breakdown if you are a Fire supporter) and let's focus on moving to Soldier Field. Chicago Fire has already played on this behemoth, which can accommodate over 60,000 fans and it did not look good, and it was the time when fans eagerly came to the matches of their favorites. Last year, attendance at the SeatGeek Stadium was the worst in the league (12,324), the worst in the club's history, besides, even the new club from the lower division (USL Championship) made a better result than the MLS club. On average, 12,693 fans came to New Mexico United matches, and they play in Albuquerque, where the population is almost ten times smaller than in Chicago… The situation during the preseason was also very disturbing, when now and then we had information about the next records related to the sale of tickets and season tickets, and in Illinois, there was silence all the time. Fantastic social media activities and great videos or brilliant productions are not enough to encourage fans to buy season tickets. The club, which announced its entry to MLS next year, sold more deposits (7,000) in a day (no name, less than a month after the first mention of possible expansion) than Chicago Fire in a few months (6,000). At the beginning of January, the Charlotte club in question has already sold 20,000 deposits for season tickets. During Nashville's first MLS match, 59,069 fans appeared at the stadium and the tickets went out like hotcakes. Because of the coronavirus pandemic, we won't know how many fans would appear during the first Chicago Fire home match because it was said that at the last minute the fans had mobilized and there were really few tickets left in the pool, but I am convinced that in the long run, they would have a problem with maintaining such high average attendance. Of course, I'm skipping at this point all the effects associated with the virus, which will undoubtedly affect the entire football world, including MLS and Chicago Fire.
No place like home.

🔥 𝐓𝐡𝐞 𝐇𝐨𝐦𝐞𝐜𝐨𝐦𝐢𝐧𝐠 𝐊𝐢𝐭 🔥 pic.twitter.com/TFelyeRMgi

— Chicago Fire FC (@ChicagoFire) February 6, 2020
What would attract fans to the stadium? Bet on a new recipient which will be identified with the "new brand", rather, it will not translate into results. It will be completely different from footballers for whom fans will come to the stadiums. In the case of the Chicago Fire, we are talking primarily about footballers from South America or Mexico and Poles. However, in both cases we have deficiencies. Chicharito eventually went to LA Galaxy and Rodolfo Pizarro to Inter Miami. Of Polish players, we have, first and foremost, Przemysław Frankowski, and Nemanja Nikolić was replaced by Boris Sekulić, who is well-known from Polish Ekstraklasa's fields. Of course, we have two homegrown players with Polish roots at the club, the Slonina brothers. Is this enough to encourage new fans to come to the Chicago Fire game? Looking at what reinforcements the other clubs have made (even the weaker ones), it can be really difficult, although people in the new front office do what they can.
NEW FRONT OFFICE, NEW HOPES?
It is known that without the owner who kept his head and of course money has a lot of money, it's hard to talk about a club that will find its place in the new realities of MLS, which is in the Soccerex report (ranks the top 100 clubs in terms of financial power) the second strength after the Premier League. For 12 years, the owner of Chicago Fire was Andrew Hauptman, whom the fans wanted to get rid of at the end. On July 11, 2018, the club announced that Hauptman had sold a 49% stake of his ownership to Joe Mansueto, the founder of Morningstar, Inc. In September 2019, the billionaire became the sole owner. The complete takeover of the club by one of the richest people in the United States coincided perfectly with a new era in the history of the Chicago Fire. We can say that this is just another "new era", another "great project" and "revival", but this time a lot has changed. I have to stress it again: it can't get worse. It seems, that if the club doesn't rebuild now, it might as well end its activity. Other cities will gladly take their place and pay huge money to be awarded an expansion franchise in Major League Soccer.
Joe Mansueto is associated with Chicago. It was in this city that he studied and in this city, his headquarters is located, I recommend reading about Morningstar; its value is $3.8 billion. The billionaire, whose assets, according to Forbes is estimated at $2.8 billion, is strongly associated with the city and the club, which makes me feel that he is the right man in the right place.
I'm definitely more worried about the presence of Nelson Rodríguez, whom you met in the first part of this text. He should apologize to all supporters that he lead to the club's final collapse and just leave with Veljko Paunović. Meanwhile, Rodríguez remained in the club, but fortunately, he is no longer the CEO, but the president of Chicago Fire. Let's just say it's a temporary solution, though they should have fired him a long time ago.
Who, then, took over the first team, since Paunović said goodbye to the team and his faithful companion Nelson Rodríguez swapped the position of CEO for the president? The front office official decisions were delayed for a long time, which only turned up the nervous atmosphere. It wasn't until the end of December 2019 that the club announced a new sports director.
With the employment of Georg Heitz, one could sense in what direction the club is now heading. Confirmation was the announcement of a new coach who recently worked with the United States U-17 team. Raphaël Wicky and Heitz worked together in Switzerland. They were responsible for some of FC Basel's successes (Wicky coached all FC Basel teams from the U-18 to the senior team). Now this is to translate into a new philosophy of Chicago Fire. And although it looks really intriguing, there is still a lot to improve…
BUILD A TEAM FROM THE BASIS
One of the problems of Chicago Fire is, of course, building a solid roster. Although it does not look as tragic as in previous seasons, the front office had considerable problems completing the roster. At the end of December, there were no coach, sports director, no Designated Player in the team, and 17 players on the roster. They do not have a bargaining chip that would convince really good players to sign a contract with their club (Chicharito and Pizarro mentioned above). The exception may, of course, be a huge contract for a player who wants to be a Designated Player, but in this case we did not witness such spectacular transfer. It is very likely that on some teams Robert Berić and Gastón Giménez would not get into the starting eleven, let alone a DP deal. However, it should be emphasized that Giménez in the debut against the NE Revolution showed from a really good side. The third Designated Player, in fact Young DP is Ignacio Aliseda, and I must say that I am very curious about what this player will show us. Just before the start of the season, I emphasized that time was at a disadvantage of Chicago Fire, because the coach did not have time to introduce a new style, and the players largely not know each other. Forced break, despite appearances can really help this team. I don't speak anymore about the Eastern Conference game, where the competition for promotion to play-offs will be a bit easier than in the West. Admittedly, joining Nashville SC to the Western Conference is Chicago Fire extremely on hand.
Let's go back to what the Chicago Fire front office has broken in recent years. First of all, three aspects come to the fore: lack of long-term vision, overpaid pensioners and neglect of the academy. The transfer window was not very successful, but at first glance we can see a few positives. I will not praise the long-term vision, because I am not convinced of this and I will believe it only when I see it. I have just been disappointed at this club too many times to suddenly state that this time it will definitely be different. However, transfers of young footballers are encouraging. Ignacio Aliseda, according to people watching the Argentinian league, can follow in the footsteps of Ignacio Piatti or Diego Valeri, and an MLS supporter can't hear a better recommendation. The 19-year-old got the Designated Player contract for a concrete reason. Venezuela youth international left-back Miguel Ángel Navarro is also a raw talent, and 35-year-old Jonathan Bronstein plays in his position. I hope that the 21-year-old will quickly jump to a higher level and start playing regularly.
Of course, these are just two cases of really young players and the rest of the transfers are not in line with this trend, but I would like to note that even such small things should be enjoyed by Chicago Fire fans. In addition, the other players who joined the team did not exceed 28 years of age. This is not a 180-degree change, but enough to be of good cheer. The Fire also again bet on the academy, which not long ago they wanted to close or sell… Meanwhile, several players have joined the team in the last two years, who in the future may bring profits to the first team. Some of them probably won't break into the first team for a long time, some will probably switch the MLS in the near future for the USL Championship, but there are also players with the potential to play in Europe.
Signing the affiliate agreement with the Forward Madison from the USL League One, where the most talented young players will be able to beat, is hit the spot. The more that Madison in the United States is a city located relatively close to Chicago. Gabriel Slonina is undoubtedly the greatest talent of all contracted homegrown players. The 15-year-old goalkeeper has unbelievable physical conditions and is now regularly playing for the United States youth national team. If I had to bet on one player from this group who can make a big European career, I would choose this player. It seems that the club also went to their heads when it comes to players that they released from the academy, and they proved themselves in the NCAA. In the previous season they lost Andrew Gutman, this time they didn't make that mistake with Mauricio Pineda. The 22-year-old played at the University of North Carolina soccer team, and in the first two games of the season played a full 90 minutes as a defensive midfielder. Already during the forced pause caused by the coronavirus pandemic, two more homegrown players were contracted. Of course, they will not determine the team's strength, but playing in Forward Madison will definitely contribute to their development, which they count on in Chicago Fire. Such news is edifying. I still miss the U-18/19 team in the US Soccer Development Academy, where the competition is at a high level, but USSF also prepared a big change in the USSDA. If at least some of the players from the field manage to refer to the performances of Djordje Mihailović, then it can be considered a great success of the academy.
***
However, they should not breed complacency because Chicago Fire is still a lot of work is waiting. Let's remember that the years of neglect led to the fact that the club from the Windy City must first of all catch up with the league middle-class because the leading has long gone and its TGV, which is difficult to catch. Other clubs try to chase them and you can see it, among others after the transfer moves and the philosophy of the club. And that's what in Illinois is still missing. Fortunately, you can finally see the light at the end of the tunnel, and it is not an illusion or a mirage. I see that they are trying new solutions. I see that they really care about the reborn of the club, but they still lack a long-term plan and a clear declaration from the front office, but Rome was not built in a day. Importantly, that the first decisions regarding changes were made and although it promises to be the next so-called the transition season, then Chicago Fire fans can finally breathe a sigh of relief because there is no indication that the new front office will be completely incompetent and repeat all mistakes of their predecessors.